Looking Back at August
The second quarter growth rate for our gross national product was reported at 4.3%. This and other indicators imply that our economy is growing, our labor market is strong and wages have risen slightly. Despite some "noise" about jitters, the economy is growing and consumer spending and sentiment are very strong.
While trade talks with Mexico have been positive, we have made little progress with Canada and China. If the trade talks continue to stall, it could slow our economy slightly by raising prices on tariff goods.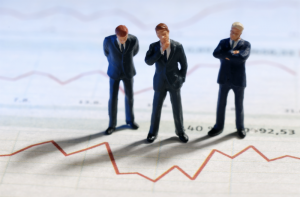 Looking Ahead to September
September can be one of the most volatile months for stock market movement. Even though the economy is very strong, there are slight indicators that suggest we could have a near-term pullback. As the market reaches new highs, many traders tend to sell and move the market, so volatility in September could be a reality.
More than likely, there will be another 0.25% rate hike in September. The Federal Reserve Bank believes that the economy is strong and inflation is on track, so they will probably continue to slowly raise rates.
As the stimulus from tax cuts are fully implemented, the initial benefits are likely to fade over the coming quarters. This may prompt companies to adjust expectations. However, we expect that the GDP will remain at good levels.
Our View
We are keeping our eye on events that may influence the market, such as tariffs and short-term interest rates hikes. Another potential influence on the market is mutual fund managers.
After Labor Day, many investors take a closer look at their portfolios and make changes they feel are warranted. The market could be volatile as adjustments are made.
Over 48% of US mutual funds close their books between late October and December. Managers sell stocks with large losses to avoid reporting them on their year-end report to shareholders. This causes downward pressure on stocks trading within their portfolio(s) that are at or near 52-week lows. Once the selling subsides, these stocks have historically experienced a price reversal. (When Funds Clear Out: A Fiscal Year-End Stock Screen, Thomas Smicklas, Seeking Alpha November 6, 2008)
As investors, not traders, we need to look further into the fall and the end of the year. We still believe that our allocations should tilt away from bonds and some emerging markets. We will continue to closely monitor economic developments along with global events that affect the market.
If you have any questions, please contact us.