There are two basic philosophies for analyzing the stock market, one is fundamental analysis, the other is technical analysis.  Fundamental analysis looks at the economic and financial factors that influence a business (financial statements, future projections, etc.).  Technical analysis, on the other hand, exams the price movement of a security.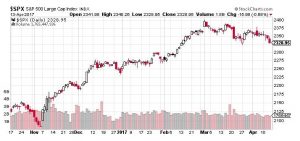 Technical analysis looks at the price trends (or directions) that a security has taken.  The thinking is that prices move in a pattern and that pattern can be charted and trends will appear that help analysts decide on future investments.  These charts can look at a variety of statistics. Examples are candlestick chart (measuring high and low prices each day) point and figure charts, support and resistance charts to name just a few.
The goal of technical analysis is to find trends (upward trend, downward trend, or even moving sideways), and using that information to work with the trends not against them.
This report is for information purposes only and is not a recommendation for any particular security. Mention of individual securities should not imply that we own the security or have owned it in the past. In addition, the information provided here should not form the basis for investment decisions. Past performance is no guarantee of future results. This information should not be used in any transaction without the advice and guidance of your Tax Professional. LifeSteps Financial has not independently verified, or attested to the accuracy or authenticity of the information, including any investment performance measurement.